Singapore was the closet to the equator that we'll be on this trip. It says a lot then that even in 100 degree weather we both had a great time.
We spent the first three nights at a hostel in little India. It was a cute place despite the night club specializing in K-pop karaoke on the other side of the wall (thank goodness for earplugs). The metro was super clean and modern and made for a really easy trip from there to the harbor where we spent most of our time.
On our first full day there we explored the new Gardens by the Bay park. There were tons of orchids and a model train that if you look closely at in the picture below shows a model of the Rangeley line from Maine. We went to the food market for dinner and ate chili crab and I tried Durian (a tasty fruit but with such an unpleasant odor it's banned from the subway). As adventurous an eater as I am I'm not sure it's something I'll go out of my way to find again (much to Greg's relief).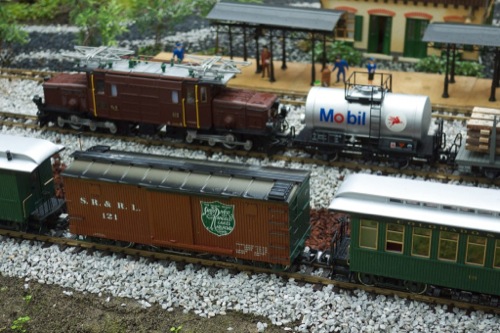 The following day was spent exploring some of the sites of Little India and China Town. The Buddha Tooth Relic Temple and Museum was a definite highlight where we made it in time to hear the monks begin their daily sutra chanting. It also happens to be less than a block away from a gorgeous Hindu temple and then a few yards further down the street is one of the largest mosques in Singapore.
On our last day we splurged and spent the night at the Marina Bay Sands, home of an infinity pool on the 57th floor, the world's highest. The views of the harbor were incredible and the rest of the hotel (which also happened to include an ice skating rink, and a Lego exhibit at the on-site art gallery) was ridiculous (in a good way).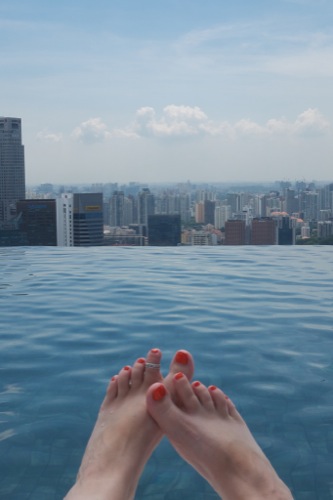 When we were first looking up things to do we read a review that said something like, "Singapore is 'Asia lite' so sterilized that you couldn't get food poisoning even if you tried". While I think that may be true, and wasn't exactly what Greg and I had been expecting, it also felt like a modern city very far and different from home. A place we'd totally recommend and love to go back to again someday.