Success! We managed to visit China on a 48 hour (whirlwind) layover. When we were planning for the trip we realized that it was going to be almost impossible to get visas for Russia, India and China on our timeline. Greg though, with his bizarrely impressive knowledge of international transit rules, knew that China has a visa-free option for visits shorter than 72 hours. This is contrary to what the US State Department webpage says, however, and thus I wasn't totally convinced it was going to work until after we made it through immigration. Luckily, score one for Greg.
It was certainly a whirlwind stop, but totally worth it. We stayed at a reasonably nice hostel in a traditional hutong close to Tiananmen square and the Forbidden city. We visited both, taking the requisite pictures of Chairmen Mao, and being blown away by the sheer scale of the Forbidden City. We tried to make it to the Great Wall too, but it just wasn't going to work on such a short timeline.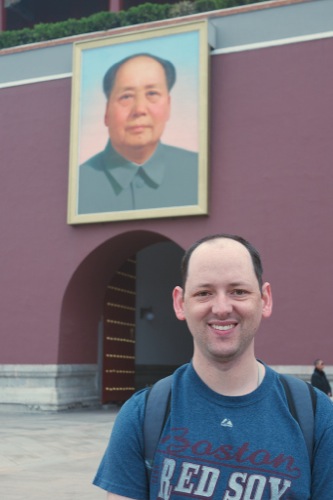 Beijing was probably the most chaotic and foreign place we've been to yet. I loved it. Greg, I think, has mixed feelings though it's hard to tell how much of that is based on the smog or how much is his annoyance with the Great Firewall (he managed to get around it pretty easily, but muttered about how ridiculous it was the whole time). We both kept coming up with things we'd like to see or do on our next visit here though, so that seems like a good sign! Next stop, Hong Kong.