We had a wonderful time in Jordan. This was another place where we didn't have much time (and would definitely have enjoyed more), but still felt like we managed to see a lot. After arriving on a super early flight from Delhi we picked up a rental car and drove to the Dead Sea. It was absolutely gorgeous, crazy to be able to look across to Israel and a blast to swim in. Everything we'd read about it was true. It was completely effortless to float in and we had fun doing barrel rolls almost on top of the water. I went all in with the mud too while Greg stood by (mostly laughing, partly grimacing).
After an afternoon in the water we drove further south to Petra. Thank you so much to Stephen and Sarah for all of the advice. The hike was indeed hot and incredibly dusty, but we made it through the gate by 6:45 or so and after the heat in India it wasn't nearly as oppressive as we had psyched ourselves up for. The hike into the canyon was almost immediately breathtaking and of course very Indiana Jones-like. It just kept getting better and better though as we first made it to the treasury and then a couple of hours later up the 800 or so steps to the monastery. Exhausting, but totally worth it.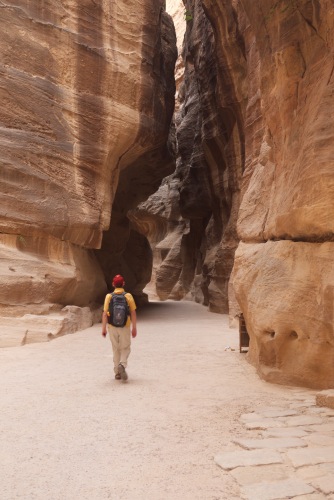 After a cold beer, about a half dozen showers to rinse of the dust (and more of the salt from the day before) and a good night's sleep we drove the next day back towards Amman and stayed in Madaba, a smaller town nearby. We weren't there long, but had a lovely dinner and walk through the town. We met so many friendly people in Jordan (we had multiple people spontaneously try to give us directions even though we didn't need them) and I loved getting a chance to speak a tiny (very tiny) bit of Arabic. Can't wait to go back!