We arrived in Mumbai after taking an overnight train from Vadodara. The train was great. Ankesh helped us book an a/c sleeper cabin which meant we managed to get at least an hour or two of sleep before the sun was up and the morning news started coming through the train's loudspeakers - first in Hindi (we think) and then in English. Just watching the scenery change from our cabin window was impressive. Miles and miles of empty brush, then a river with dozens of colorful boats stacks on their banks. Finally the city, sprawling suburbs at first and then skyscrapers to rival just about any American city.
Unfortunately, we quickly realized that Mumbai was not the place for us. First of all, as soon as we stepped off the train we were met with the most aggressive heckling taxi drivers yet. We seriously couldn't shake them (and then especially after having barely slept in the past 24 hours) we finally gave up and gave in to one who then overcharged us to take us to our hotel. Luckily, it was easy to keep things in perspective and understand that we were only talking about an extra few dollars. Definitely could have been worse, but not a great start. Then there was the security. While I understand and appreciate the need for the extra security in Mumbai it was also rather overwhelming. Armed guards and metal detectors just about everywhere we went. Again, I imagine mostly because we were in the tourist area, but still.
Luckily we were only spending one night in Mumbai mostly because Tim Kudo told us that there was a drink at the Taj hotel that was worth going there for. It pains me to say that Tim was right, but it's true. The drink is called "From the Harbor Since 1933". You should read the full story here, but the gist is that it celebrates the end of American prohibition. It's served en flambé by a waiter who very ceremoniously presents it while telling the whole story. What impressed me even more than the drink was that our bartender still seemed enthusiastic about the whole process despite telling us that they often repeat it 10-20 times a day. Huge compliments to everyone working there.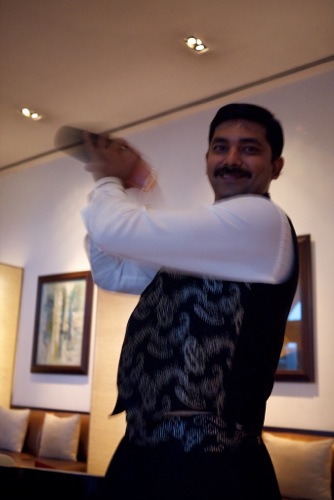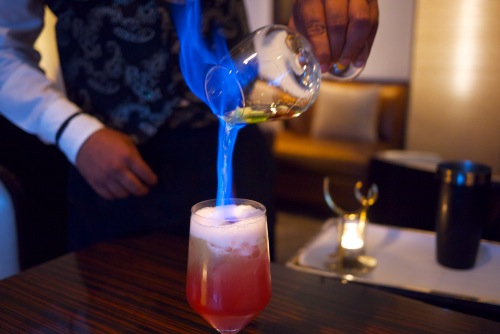 Now off to Goa…