The combination of the last minute planning and not knowing what to expect meant that Greg and I took the easy route and booked a room at the Strand. The Strand is one of the oldest hotels in Yangon, built in 1896 and famous for having such notable guests as Rudyard Kipling and George Orwell. The building itself was incredible and probably the first place we've stayed where we really felt like we were in a completely different place (and in this case time too).
We were a little worried that staying in a place like that would mean we wouldn't get to see much of "real" Yangon, but that concern was completely put to rest when we walked just a few blocks away from the hotel. Unlike so many of the street vendors and food stalls we've passed everywhere else the striking lack of tourists meant that the ones we saw here were filled with people going about their daily lives. One of the things that surprised us most was that despite the level of disrepair of some things (seriously crumbling stairwells and sidewalks riddled with sinkholes) other things looked like we could still have been in any of the other southeast Asian cities we'd visited so far (and with far better drivers).
While we were looking up things to do we read about two places fairly close to our hotel and that turned out to be definitely worth visiting.The first was a local craft shop named Pomelo that works with local aid organizations to sell various textiles and craft items. They had everything from paper maché animals to handwoven scarfs and blankets. All absolutely gorgeous and in the upstairs of one of the big, clearly British buildings that was amazing just to be able to step inside.
The second is an art gallery and studio named Pansodan. This was absolutely one of the best experiences we've had on the trip thus far. It wasn't super far from our hotel so we set out walking when all of a sudden (seriously, it was quick) the sky opened up and we were caught in a downpour. We finally made our way to the gallery (after stopping to buy an umbrella from a street vendor) and walked up a dark, rundown stairway to find the owner of the studio hanging out at a table with a couple of other people and hundreds of paintings stacked and scattered throughout three rooms. Everyone was immediately very welcoming and encouraged us to have a cup of tea while we looked around. We found a couple of pieces we really liked, unexpectedly met the artist of one of them, and had a lovely time chatting with the owner, Aung Soe Min, while everything was being packaged up.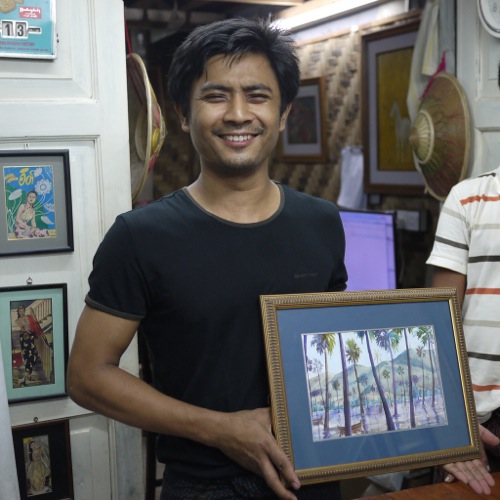 After we left the gallery we went to go see the Shwedagon pagoda. We had been trying to make it before sunset, but spent longer at the gallery than we had expected and instead got there just as the sun was going down. The Pagoda was absolutely stunning as the sky turned from bright blue to navy and then black and the lights of all the various shrines were turned on. Also, either because of the time of day, or the rain, it wasn't nearly as hot or crowed as we'd been warned it might be making for an even better evening.
There's so much more that we saw, and can barely describe (wonderful architecture, Obama graffiti) and even more that would have loved to have seen. For now we'll have to settle for our 48 hour whirlwind tour. In the true spirit of this round-the-world trip as a way to figure out where we want to come back to, Myanmar definitely makes the short list.